Bonus Material: Free Interactive White Paper On How To Grow Service Income With a Predictive Service Model
10 years ago, if you had told me a technician could sit in the office and identify exactly which of a client's units needed attention, and what services needed to be done to that unit, I'd have thought you were full of it.
Since the dawn of time the HVAC game has been one of boots-on-the-ground contractors wandering around rooftops, smelling, listening, touching (and maybe kicking) units in order to suss out which ones needed attention, which ones were close to failure, and which ones were running just fine.
But those days are over.
By continuously collecting real time RTU performance data we can actually create a digital mirror of each unit in the nClarity cloud, allowing teams to "see" unit performance remotely and go on-site with precision.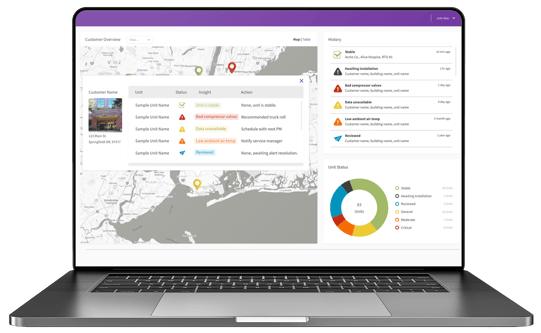 nClarity's Virtual PM Services allow an experienced tech to do in one hour what used to take up to 3 in the field. That means every dollar your business spends goes three times farther, resulting in reduced truck rolls, smarter field work, and drastically reduced down time for your clients.
As we all know, happy clients equals a happy business.
Pretty aggressive claims, we know! That's why we intend to back 'em up with real-world data and examples from the field. Our team is uncovering new services every week as we engage with our contractor partners. Find one such example below.
---
Virtual Service Spotlight With David Vogel, nClarity Field Engineer
The morning of a PM, he does a precursory check through RTU data in the nClarity dashboard. Spending a few minutes in here with each RTU helps make his PMs insanely efficient.
Check out his 3-minute video walkthrough below:
David Vogel nClarity Dashboard Walkthrough
The HVAC space is more competitive than ever. In today's day, the contractors that win are the ones that spend every dollar smarter, utilize their workforce more efficiently, and meet their customers needs better than anyone. nClarity's Virtual PM Services make this possible.