Bonus Material: Free Interactive White Paper On How To Grow Service Income With a Predictive Service Model
nClarity (and our earlier incarnation as Building Advice/North Park Innovations) has been in the HVAC game for 20 years working with HVAC Service Teams. Trust me, we're just as tired as you are of hearing the overpromising and under-delivering from PM. Reactive, Preventative, Proactive, Blah, Blah.
But what about Predictive Maintenance?
Advances in technology and reductions in component costs are now enabling us to revolutionize the way services are delivered. We're talking cold, hard workforce optimization, and ROI for clients in the form of building and equipment efficiency.
The nClarity Pulse Sensing Unit is in the field right now using our AI-driven Predictive Maintenance model to transform building data into business value for contractors and their clients.
I hope I have your attention now, because this is exciting stuff.
So what's the difference between Predictive PM and the others? Picture a manufacturing facility with 20 RTUs servicing it. Unless you have the time to gauge up all 20 RTUs, it's a total crap shoot determining where your techs should invest their limited time when they're on the roof for the quarterly Preventative PM.
As I'm sure you're well aware, competitive pricing pressure makes a complete, thorough PM virtually impossible. Techs end up having to use their senses to prioritize units when they get on site. While Proactive is a responsible approach, it exposes customers (and you) to sudden and often catastrophic equipment failures and exposes your team to preventable truck rolls that sap resources.
Now picture the same facility with all 20 units permanently gauged with the nClarity Pulse Sensing Unit. Now we're capturing Temperatures, Pressures and Energy consumption 24/7 to gain a clear understanding of equipment performance, all without leaving our desks at the office.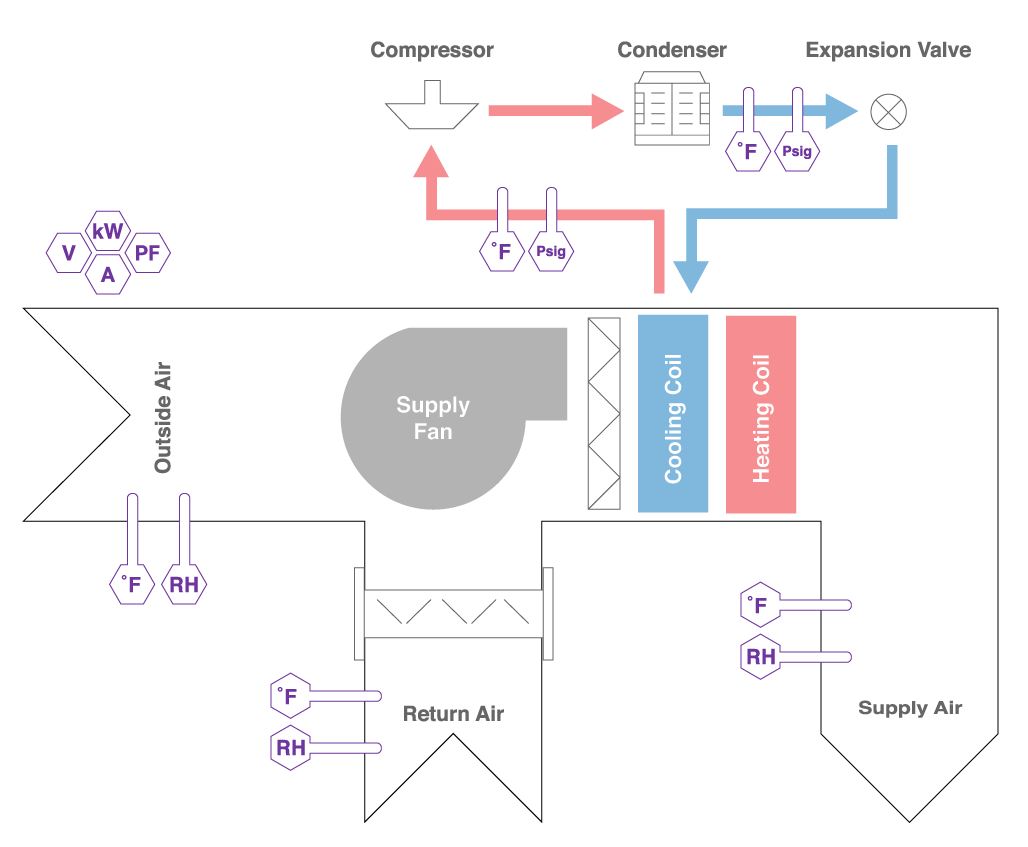 nClarity sensing points on an RTU.
No more guesswork up on the roof. Remote access to this realtime data enables a Virtual Tech to remotely inspect all 20 machines with performance filters and prioritize machines needing attention by the dispatched techs. You can now deliver a deeper level of service with less labor, gettingahead of potential sources of failure because your techs stay informed with real time data.
That's the magic of the Predictive Maintenance model with nClarity.
We're developing a suite of Virtual Services using this trove of invaluable data with the mission of creating a big impact in your business through workforce optimization. Dispatchers can now work with Supervisors to diagnose trouble calls ensuring a far more efficient dispatch process. Early detection of refrigerant leaks, pitted contacts and plugged filters now ensure small problems are addressed before they become bigger. And so much more.
Predictive PM is here with nClarity, and it's here to stay. We'll be bringing you insights into how our contractors are rolling out these services, real case studies, and other real-life examples of Virtual Services being performed right now. Stay tuned!